Security Officer (Re- Advertised)
This job has ended. You cannot apply anymore.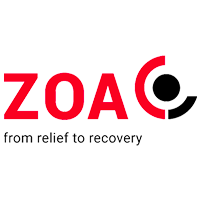 Job Description
ZOA, as an international NGO, supports people who have lost everything due to armed conflict or natural disaster. Together, we can come to their aid in emergencies and remain faithful to communities as they recover – providing new opportunities for them to help themselves again. The work of ZOA is coordinated from the Netherlands. We are active in multiple countries in Africa, South America, the Middle East Region, and Asia. We work with approximately 900 employees worldwide and with (local) partners. We invite you to join our team of committed colleagues. ZOA has been operational in Yemen since 2012, mainly focusing on WASH and Food security & Livelihoods interventions in Sana'a, Hajjah, Al Mahwit, Aden, Al-Dale'a and Shabwa Governorates. ZOA Yemen is currently seeking for national qualified candidates for:
Re- Advertised Security Officer, Aden – 1 position
The purpose of the Security Officer function is to support the country management to effectively manage staff security.
The Security Officer supports the implementation of ZOA security procedures. S/he is responsible for overseeing adherence of security procedures by all ZOA staff and visitors. The Security Officer provides regular advice on the security situation in the south of Yemen as well as in the country, to ensure safe and secure implementation of ZOA's projects. S/he reports to the Program Manager at Aden level with technical management by the Manager of Operations.
I. Tasks and responsibilities
Security information and management
Continuously gather information, follow up, report and analyse security-related issues to support operational and strategic decision making on security management.
Inform management team on areas of security concern and suggestions for improvement and mitigating measures.
On a weekly basis, analyse various information sources and assess security situation in the various program areas in the South and inform Program Manager and Country Director on changes in security levels at program area level and advise on actions to be taken as guided by indicators and actions.
Provide regular, concise and clear verbal and written security updates including weekly updates, monthly reports and flash updates when required).
Maintain high level of contextual awareness in the areas of operations and support programme teams in coordination at the community level.
Support the Country management team with writing of security updates, revisions of security documents, the ZOA Local Security Plan and the security risk assessment tool.
Actively propagates the neutrality of the organisation and advices on improving the reputation of ZOA.
Actively develop and maintain relationships with other NGO's, information sources, authorities and other necessary stakeholders while maintaining neutrality.
Implementation ZOA security management
Ensure all communication equipment is functioning and charged at all times. Provide advice on best form of communications.
Ensure the availability and proper functioning of all other necessary safety equipment and supplies, including travel safety items.
Ensure up to date communication procedures for information sharing.
Develop and maintain communication trees and ensure all staff are informed on the use of the communication trees.
Work with Program Manager, Area Coordinator and Operations Manager to implement operating procedures and contingency plans for the program areas.
Ensure SOPs are adhered to by all ZOA staff and ZOA visitors.
Provide feedback on travel requests of staff and visitors.
Responsible for ensuring staff tracking during travels.
Conduct regular security assessments of all ZOA locations in the south including warehouses, hotels and guesthouses.
Work closely with the PGM/CD in assessments of new programming areas.
Ensure project areas are deconflicted for project running time if when applicable.
Ensure safety regulations for all locations are implemented – security guards, fire safety and first aid procedures.
Monitor the functioning of the (third party) security guards.
Ensure all staff and visitors receive a (cultural and) security briefing and can access sufficient information to assess the acceptability of the level of risk to which they are exposed.
Provide induction of all new ZOA staff and partners on ZOA security and safety procedures and incident reporting.
Support the organization in training of all staff on safety (first aid, defensive driving, etc.) and security.
Follow up on incident reporting and ensure all incidents are reported and filed. Inform country director, operation manager and PGM and provide advice on the way forward
Coordination
Coordinate and participate in security related meetings and networking.
Other Tasks and Responsibilities
In coordination with Logistics ensure proper vehicle planning in line with security protocols and security levels.
In coordination with Logistics ensure vehicles are checked before departure to the field and (new) drivers are trained in security measures.
Training of drivers and provide them a brief overview of the nature of the targeted places and the risks that maybe encounter and how to deal with it and ensuring that ZOA security rules are applied.
Support and/or replace the Liaison Officer in case of high workloads or during leaves.
III. Contacts
Internal contacts
CD / Program Manager / Area Coordinator / Manager of Operations / Sana'a Security Officer
All ZOA Country staff
Global Security advisor at HQ
ZOA visitors in Country
External Contacts
Other (I)NGO's
Security groups and information sources
Authorities
Local Partners
IV. Supervises: None
V. Competencies
Knowledge and Experience
Fluent in written and verbal Arabic and English.
Relevant educational background. Preferably holding a Bachelor Degree in a related area such as Development and/or Humanitarianism, Social Science, Political Science, Security Management or Journalism.
Minimum of 3 years in security management, especially in the Yemeni context with an in-depth understanding of the security context in Yemen.
Skills and Competencies
Excellent verbal and written communication skills.
Ability to analyse and summarize security information in order to inform management and guide security decision processes.
Ability to influence behaviour of staff members in making the right security decisions.
Good communicator, accurate and persistent in ensuring security procedures are implemented, with understanding of sensitivity and confidentiality of information.
Experience in security assessments and providing security advice.
Good networking skills.
Experience in liaising and negotiating with civilian, police and military, state and non-state actions, as well as with regional and national institutions.
Ability to maintain neutrality when dealing with different stakeholders.
Capacity to effectively train staff on fire safety, first aid and basic security management.
Computer literate.
Attitude
Support and adhere to ZOA standards and guidelines.
Flexible attitude, yet result oriented.
Ability to cope with stress.
Willingness to learn and be trained and challenged to grow.
Willingness to teach and train others
Willingness to travel to (remote) field locations.
Location: Aden
Start date: as soon as possible, contract until 31st of December 2022 with possibility for extension based on budget availability
How to Apply
How to apply has been removed becuase this job has ended. If this is a special case, please contact us and we will help.
Important Notes /
مقترحات هامة
Following the instructions on

How to apply

will always increase your chances of getting your application looked at.


إتباع تعليمات التقديم المذكورة في كل إعلان ستزيد من فرصة النظر لسيرتك الذاتية من قبل الجهة المعلنة
If you're applying by email, make sure you mention the job title in the

"Subject"

field of your message


تذكر أن تكتب إسم الوظيفة و موقعها في عنوان البريد عندما يكون التقديم عبر الإيميل