Senior Human Resources and Administration Officer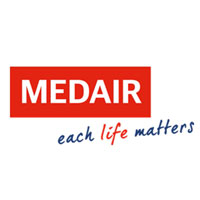 Job Description
JOB TITLE: Senior Human Resources and Administration Officer - Aden Office
LOCATION: Aden
REPORTING TO: Human Resource Manager
OVERALL PURPOSE:
Working as an important member of a diverse team who are committed to serve the world's most vulnerable with practical and compassionate care. The Senior Human Resources and Administration Officer is responsible for managing all aspects of human resources and admin for Medair Yemen as managed from the current country office in Aden
PROJECT OVERVIEW
Medair Yemen's country office is in Aden and supports Medair's integrated humanitarian responses including provision of primary health care and nutrition and WASH, with a particular focus on children and mothers.
SUMMARY
Focusing on nationally recruited staff on a day-to-day basis, the Senior HR and Admin Officer will handle recruitment, staff policy development, coordination of staff inductions and training, general staff well-being, and NRS contract management. All HR activities are conducted in line with Medair policies and procedures and in accordance with local employment legislation and practice.

FUNCTIONAL LINKS
INTERNAL: HR Manager, Country Director, and HR Admin Officer and Assistant.
Deputy Country Director, Logistics Manager, Finance Manager, Project Coordinator, Project Manager
EXTERNAL: Other NGO HR departments, different local authority actors, Labour Office, Tax Office, HR peers in other Medair country programmes
Responsibilities:
GENERAL TASKS
Uphold the humanitarian principles of humanity, neutrality, impartiality, and independence
Respect the Medair values at all times, both within and outside of working hours
Know, understand, and comply with Medair internal policies and procedures
Follow the Medair Security Plan and Policies at all times
Adhere to Medair Nationally Recruited Staff (NRS) handbook
DAY-TO-DAY HUMAN RESOURCES TASKS
Coordinate the recruitment process for new / vacant national staff positions in conjunction with the relevant line manager. This will include updates to job descriptions, advertising the vacancy, scheduling interviews, and interviewing potential candidates with the line managers, all with high levels of transparency and procedure following
Ensure all nationally recruited staff have a current employment contract
Maintain personnel files ensuring that all required documents are collected upon recruitment.
Work with line managers to ensure all new national staff receive a relevant and appropriate induction when commencing employment with Medair
Ensure national staff exit interviews are carried out, clearance form completed, and appropriate records are kept when national staff leave Medair
Follow the correct procedures according to Medair policy and Yemeni labor laws in handling contracts of Medair staff.
Perform tasks related to the preparation of payroll sheet including verifying staff attendance, collecting, and reviewing timesheets in a monthly basis.
Ensure the implementation of Medair's Admin and HR manual and sharing policies with staff on a regular basis.
Coordinating with HODs in written tests and interviews and ensure accurate supporting documentation is completed for all recruitments.
Assist the HR Manager in the process of employees' benefits including processing insurance companies' claims.
Ensure relevant HR documentation is made available to staff in a language they understand or is explained verbally to those who require it
Organize appropriate debriefing, if required, following any critical incident
When necessary, support line managers on disciplinary action and grievance procedures, ensuring that the correct procedures are followed and records are kept in accordance with Medair guidelines and local labor laws
Ensure HR policies, job descriptions, contracts etc. are available in Arabic language
EMPLOYMENT DOCUMENTATION
Regularly review, update and/or develop employment documentation for nationally recruited staff, including job descriptions, employment contracts, and staff guidelines, ensuring they meet the requirements of local labor laws
SECURITY
Ensure all confidential documents and information are locked in a safe location
Ensure only authorized people have access to the HR-files
TRAINING & DEVELOPMENT
Support line managers to identify training needs for all national staff
Train new staff on Medair HR policies, rights and duties, Code of Conduct, and related policies.
Ensure mandatory Code of Conduct trainings are provided to all staff (follow the annual CoC training calendar where possible). Do regular refresher training about the Code of Conduct and related policies
Support line managers in identifying staff training needs
Source in-house and external training opportunities as appropriate, working within budgetary and operational constraints
Maintain training records
Provide line managers with any necessary training, advice, mentoring and coaching on performance management or any other relevant areas of HR management or procedures for their team
Ensure that all Medair's employees received their trainings and have set performance objectives for their probation period and annual performance
ADMINISTRATION
Follow up with HR and Admin Officer and Assistant booking UNHAS flights and following up expatriate schedules.
Oversee national staff performance management to ensure line managers conduct performance appraisals within the required timeframes and that the necessary paperwork is completed according to the latest guidelines
Ensure all national staff have a personnel file containing all relevant documentation and information, according to Medair policy and any donor requirements
Ensure all national staff HR files are archived according to Medair policy and any donor requirements
With the admin team, update and request of all administrative suppliers also checking hibernation food
Monitor overall administration of lease agreements including reviewing for rent payments, maintenance of Medair's head and field offices
Ensure that the office complies with safety and security regulations
Perform other related duties as required and assigned by your HR Manager.
Maintain other work-related records and documentation according to programme procedures. This may include national staff plans, attendance records, holidays, sickness, other absences, training records, insurance, pensions, other benefits, taxes, etc.
Liaise with the HR Manager on HR related questions and issues
Ensure HR files are stored with appropriate confidentiality levels on Box.
COORDINATION & REPORTING
Maintain open and frequent communication, where applicable, with the HR Manager, field management, and the GSO HR Officer concerning all HR related issues
Ensure colleagues are informed of the required HR procedures, and be available to answer any HR related questions and to provide coaching and guidance as necessary
Submit weekly activity plans and report to your line manager by email
Work closely with colleagues and line manager to mitigate the risks of loss and fraud through open and transparent relationships and complete and accurate paperwork
Ensure relevant reports are produced in a timely manner
STAFF MANAGEMENT
Line manage the HR Assistant and any additional assigned staff
Promote a positive culture in the office
QUALITY MANAGEMENT
Promote and use the Medair Box, Medair People, and other operating procedures, ensuring that all standardised formats are used and guidelines are followed
Role Qualifications:
Required

Desirable

VOCATIONAL QUALIFICATION

Bachelor's degree in a HR related role

Master's degree in HR related field

WORK EXPERIENCE

3 years experience in a HR related position

2 years' NGO experience

Experience as a head of department

LANGUAGES

Excellent English, local language

Ability to translate between written Arabic and English

IT

Computer literate with good working knowledge of Microsoft Excel, Word and Outlook
Role Competencies:
Required

Desirable

MOTIVATION

Passionate about working in the humanitarian sector
Enjoys a challenge and works hard to achieve objectives

Solution-oriented approach

Able to work independently

Good understanding of humanitarian issues

Compassionate, self-motivated, energetic, autonomous

TEAM-BUILDING

Team-player with good inter-personal skills

Willing to support others and think beyond own objectives

Previous experience of working in a multi-cultural team

Encouraging, supportive

ADAPTABILITY

Capacity to manage personal stress levels

Creative, open-minded, flexible, self-learner

Diplomatic and sensitive to humanitarian issues

Can prioritise work to meet deadlines

Willing to adapt to different needs of the programme

Previous team experience and knowledge of team dynamics

TECHNICAL QUALIFICATION

Competent with administrative tasks

Commitment to best practice

Quick learner with practical, precise approach

Attention to detail

Good report writing skills

MANAGEMENT & LEADERSHIP

Strong organisational and time management skills

Coaching and training skills

Empowering, accountable, mature, problem solver

Good understanding of humanitarian work
WORK CONDITIONS
Position will be based in the Medair Aden Office, with field trips to field offices and programme sites in other Governorates. The candidate will need to be flexible on time depending on the project needs.
Working hours will be 08:00 to 16:30 with 30 minutes for lunch.
SALARY: According to Medair standard salary scale
JOB COMMITMENT
TYPE OF CONTRACT: Fixed Term Contract, full time
PLANNED START DATE: October 2021
TRAINING: As required
DURATION OF COMMITMENT: 3 months with possible extension
How to Apply
If you believe that you have the qualifications and skills, please send a one-page cover letter and a CV in English as well as relevant diploma and other certificates by email to aden-recruitment@medair.org no later than 19 Sep 2021. The subject of the email should be heading: Senior HR and Admin Officer - Aden and your full name
Only applications respecting these criteria will be considered. Do not apply unless you meet minimum application requirements, or you will not be considered.
This position is open for men and women, including persons living with disabilities.
We reserve the right to close the recruitment before the date indicated.
Only short-listed candidates will be contacted via phone or mail.
Important Notes /
مقترحات هامة
Following the instructions on

How to apply

will always increase your chances of getting your application looked at.


إتباع تعليمات التقديم المذكورة في كل إعلان ستزيد من فرصة النظر لسيرتك الذاتية من قبل الجهة المعلنة
If you're applying by email, make sure you mention the job title in the

"Subject"

field of your message


تذكر أن تكتب إسم الوظيفة و موقعها في عنوان البريد عندما يكون التقديم عبر الإيميل
Send this job to a friend