Finance Assistant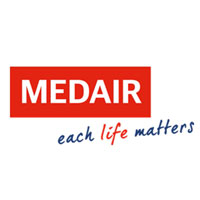 Finance/Accounting
Posted on 21 Nov, 2021
Closing on 05 Dec, 2021
Job Description
JOB TITLE: Finance Assistant – Medair Yemen
LOCATION: Al Dhale'e
REPORTING TO: Senior Finance Officer
OVERALL PURPOSE
Working as an important member of a diverse team who are committed to serve the world's most vulnerable with practical and compassionate care. The Finance Assistant supports many of the financial activities of the programme.
On a day-to-day basis, the Finance Assistant carries out a variety of accounting functions required to ensure the financial needs of the programme are met and that all financial transactions are carried out and recorded with integrity and in accordance with donor, Global Support Office (GSO) and field guidelines.
PROJECT OVERVIEW
Medair is growing at a steady rate in Al Dhale'e base. Planned integrated responses include provision of Water, Hygiene and Sanitation (WASH) as well as primary health care and nutrition, with a particular focus on children and mothers

FUNCTIONAL LINKS
Internal: Finance Manager, Senior Finance Officer, Finance Officer, other Finance Assistants, Logistics Team, Al Dhale'e Programmes team
External: Banks, finance entities, audit firms
Responsibilities:
GENERAL TASKS
Uphold the humanitarian principles of humanity, neutrality, impartiality, and independence
Respect the Medair values at all times, both within and outside of working hours
Know, understand, and comply with Medair internal policies and procedures
Follow the Medair Security Plan and policies at all times
Adhere to Medair Nationally Recruited Staff (NRS) handbook
FINANCE & ACCOUNTING
Carry out the day-to-day accounting functions of the programme
Ensuring all financial transactions are carried out in accordance with the Medair guidelines and procedures and donor requirements
Ensure effective audit trail is in place and all supporting documents are availed before paying any transaction
Manage cash, ensuring sufficient amounts are available at all times and that necessary security measures are in place and are being followed
Conduct regular cash and bank reconciliations, verifying amounts held and reporting any discrepancies
Paying supplier invoices either directly or in conjunction with colleagues and in accordance with agreements made
Supporting colleagues in cash handling and financial transactions, providing coaching and guidance as required
Produce accurate monthly accounts within the agreed timeframe, including the compilation and finalization of monthly expense sheets (PDFs and Field Connect) for all cash and bank accounts
Assist the Finance Officer to compile the Cash Needs Forecast from budget holders and logistics staff and consolidate it in the monthly cash needs forecast for the Medair Yemen Programme in Aden, ensuring that money is transferred between locations in a timely manner and that daily cash needs are met
Assist the Finance Officer in service contract payments
Prepare for and support internal and external financial audits, providing all information required by local legislation, donors, HQ or other bodies
Assist in providing information for internal and external audits; report immediately any possible fraud or theft
Assist with budget preparation, including providing financial analysis on account spending.
ADMINISTRATION
Ensure a clear and transparent paper trail is adhered to for all financial transactions and that all filing and archiving is in line with Medair and donor requirements which follows international accounting standards.
COORDINATION & REPORTING
Maintain open and frequent communication, where applicable, with the Finance Manager, field management and the GSO Finance Assistant concerning all financial issues
Ensure colleagues are informed of the required finance procedures, and be available to answer any finance related questions and to provide coaching and guidance as necessary
Submit weekly activity plans and reports to your line manager by email
Work closely with colleagues and line manager to mitigate the risks of loss and fraud through open and transparent relationships and complete and accurate paperwork
Ensure relevant reports are produced in a timely manner
QUALITY MANAGEMENT
Adhere to all financial internal controls and other operating procedures, ensuring that all standardised formats are used and guidelines are followed
SECURITY
Ensure all cash is locked in the safe at all times
Ensure cheque books are stored in a safe location
Ensure only authorized people enter the finance office
TRAINING
Train new staff and relevant people in the right use of finance documents according to the Medair Finance Manual
QUALITY MANAGEMENT
Maintenance of accurate and timely accounting records for all financial transactions
Filing and retrieval of accurate supporting documentation for all financial transactions
Management of cash and, where applicable, bank payments, ensuring the security of all funds
OTHERS
Any other reasonable duties related to the above areas
Role Qualifications:
Required

Desirable

VOCATIONAL QUALIFICATION

Certified Public Accounts (CPA 2)

Business related technical course

Bachelors degree in finance related field

WORK EXPERIENCE

3 years experience in a finance related position

2 years NGO experience

LANGUAGES

Good English (spoken and written)

IT

Computer literate with good working knowledge of Microsoft Excel, Word and Outlook

Experience of working with different accountancy software packages
Role Competencies:
Required

Desirable

MOTIVATION

Enjoys challenges and working hard to achieve objectives

Able to solve problems independently and as part of a team

Passionate about serving those in need in an impartial manner

Self-motivated and enthusiastic

Desire to remain as a long term member of the Medair team

TEAM BUILDING

Team-player with good interpersonal skills and cross-cultural understanding

Encouraging, supportive

Previous experience of working in a multi-cultural team

ADAPTABILTY

Able to prioritise work to meet deadlines

Capacity to work under pressure and manage personal stress levels

Creative, open-minded, flexible, self-learner, able to cope with basic living conditions in the field and during field trips,

Able to fill in for other roles when needed

TECHNICAL EXPERTISE

Internal audit and controls

Filing and archiving systems

Banking systems and Yemen Legal requirements (Tax, Labour law)

Expenditure tracking vs budgeting

Cash forecasting and cash flow management

Knowledge of humanitarian funding and auditing

International banking

MANAGEMENT & LEADERSHIP

Able to make decisions within a consultative and supportive framework

Experience of team leadership

AREAS OR EXPERTISE

Finance / Accountancy / Budgeting / Forecasting / Cash Flow Management / Data Analytics/ Office Administration

Humanitarian funding and finance

WORK CONDITIONS:
Position will be based in the Medair Aden Office. The position holder should be flexible on time depending on the project needs.
Working hours are 08:00 to 16:30 with 30 minutes for lunch.
SALARY: According to Medair standard salary scale
JOB COMMITMENT
TYPE OF CONTRACT: Fixed Term Contract
START OF COMMITMENT: 14.02.2021
How to Apply
If you believe that you have the qualifications and skills, please send a one page cover letter and a CV in English also National ID or Passport as well as relevant diploma and other certificates by email to :
aden-recruitment@medair.org no later than 5th of December 2021.
The subject of the email should be heading: Finance Assistant ALD and your full name
Only applications respecting these criteria will be considered. Do not apply unless you meet minimum application requirements or you will not be considered.
This position is open for men and women, including persons living with disabilities
We reserve the right to close the recruitment before the date indicated.
Only short-listed candidates will be contacted
Important Notes /
مقترحات هامة
Following the instructions on

How to apply

will always increase your chances of getting your application looked at.


إتباع تعليمات التقديم المذكورة في كل إعلان ستزيد من فرصة النظر لسيرتك الذاتية من قبل الجهة المعلنة
If you're applying by email, make sure you mention the job title in the

"Subject"

field of your message


تذكر أن تكتب إسم الوظيفة و موقعها في عنوان البريد عندما يكون التقديم عبر الإيميل