Senior MEAL Officer (Re-Advertised)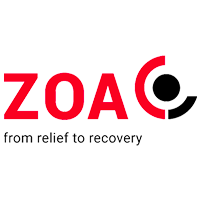 Job Description
ZOA, as an international NGO, supports people who have lost everything due to armed conflict or natural disaster. Together, we can come to their aid in emergencies and remain faithful to communities as they recover – providing new opportunities for them to help themselves again. The work of ZOA is coordinated from the Netherlands. We are active in multiple countries in Africa, South America, the Middle East Region, and Asia. We work with approximately 900 employees worldwide and with (local) partners. We invite you to join our team of committed colleagues. ZOA has been operational in Yemen since 2012, mainly focusing on WASH and Food security & Livelihoods interventions in Sana'a, Hajjah, Al Mahwit, Aden, Al-Dale'a and Shabwa Governorates. ZOA Yemen is currently seeking for national qualified candidates for:
Senior MEAL Officer- Re-Advertised , Aden – 1 position
The Senior Monitoring, Evaluation, Accountability, and Learning (MEAL) Officer together with the MEAL coordinator develops, and implements the monitoring evaluation, accountability and learning (MEAL systems) for ZOA programmes. She / he manages information and reporting processes and products to ensure professional, high-quality communication about ZOA Yemen's programmatic activities and results. The S. MEAL Officer will be responsible for the design of participatory data collection methods, data analysis and internal reporting. She/he will also play an important role in improving information management and data quality, and in strengthening knowledge sharing and learning across the organization. The S MEAL Officer is expected to support the overall implementation of the Complaints and Feedback Mechanism in the South programme area and support the liaison team in requesting approvals for MEAL exercises from the authorities. She/ he will also be responsible for supporting the Yemen MEAL team (both north and south) team in proper data analysis and visualization and in ensuring beneficiaries and other vulnerable community members, including stakeholders, are involved and participate in MEAL activities.
II. Tasks, responsibilities, results
The Senior MEAL Officer will be assigned with the following responsibilities
Lead the MEAL work for South Programme
Actively participating in developing standardized MEAL tools for the project such as monitoring sheets; weekly/monthly progress analysis reports and project's IPTTs.
Training the relevant data collectors in the field of MEAL system, ensuring they use the required formats/sheets effectively as required and desired
Developing the database for storing projects data and information.
Updating project database on regular basis through entering and processing relevant data on timely basis.
Collating and extracting relevant information from the project database on a regular basis, ensuring information/data are available upon request.
Conducting regular field monitoring to identify challenges and present to the program management for corrected actions
Supporting the programme team in designing appropriate tools to effectively monitor and evaluation programmatic interventions.
Facilitate programme review meetings and monitoring events through engaging programme staffs.
Prepare and compile PDM, DDM, Verification reports and respond to donor question when necessary.
Planning and conducting relevant MEAL exercises in the programme area
Conducting baseline assessments, annual project reviews, and final evaluations
Systematically and frequently capturing progress, successes and challenges with photo camera and video.
Ensures all the related data and files are properly organized and stored in soft and hard copies.
Accountability.
Actively sharing feedback and complaints with field programme teams and track follow-up.
Support the MEAL coordinator in updating the database
Report writing
Design and write baseline and End line reports
Support the wider MEAL team in data analysis for all reports.
Support the Meal Coordinator in Proposal Development
Designing logical frameworks
MEAL budgets
Meal and accountability plan
Writing need assessment reports
III. Contacts
External Contacts
ZOA International Yemen Partners
Beneficiaries
Internal contacts
Program FSL and WASH field teams
MEAL officers within ZOA Yemen
IV. Supervises
Field Data collection teams and supervisors
V. Competencies
Qualifications & experience
Bachelor degree in Computer Studies, Information Technology or Statistics
At least 3 years of M&E experience related to development and humanitarian aid with experience working for INGO is preferred.
Excellent knowledge and experience in reports writing
Experience of quantitative and qualitative data collection and analysis.
Strong statistical skills including knowledge of Microsoft applications.
Knowledge of the major evaluation methodologies (qualitative, quantitative, mixed method, and impact) and data collection and analysis methodologies
Knowledge of KOBO and ODK programmes for smart tool data collection would be an asset;
Fluency in written and spoken in both English and Arabic.
Skills
Experience in indicator selection, target setting, reporting, database management, and developing M&E and performance monitoring plans
Excellent community engagement and communication skills.
Commitment to deadlines and excellent attention to detail.
Monitoring, documentation and archiving skills.
Experience in planning and managing surveys, developing and refining data collection tools, and with data quality assessments and oversight
Ability to work well under pressure and in response to changing needs
Ability to work will with people from different cultures, genders, religions and backgrounds
Politically and culturally sensitive with qualities of patience, tactic and diplomacy
Capable of working collaborative with team members
Excellent analytical skills, observation and analysis capacity;
V. Special requirements
Up to 50% travel to the field locations in the Programme Areas.
Location: Aden
Start date: as soon as possible, contract until 31st of December 2023 with possibility for extension based on budget availability
How to Apply
Please send your cover letter and CV, together with 3 recent references in English with reference to the applied position to the following e-mail address:
recruitment.yemen@zoa.ngo
It is highly important that you mention the job title in the Subject field of your email in order to be considered for this vacancy.
يرجى ذكر إسم الوظيفة مع المحافظة المراد العمل بها في حقل موضوع البريد الإلكتروني عند التقديم وتسمية السيرة الذاتية باسم المتقدم (الاسم الاول + الاسم الاخير)
Only shortlisted candidates will be contacted and only completed applications will be accepted
Deadline for application: 7th of June 2023
ZOA doesn't charge any fees for recruitment or technical testing and does not invite (potential) candidates through text or what's app messaging. In case of such occurrence or request, please contact ZOA at 01/ 412485
The candidate understands that his/her name will be checked on against government sanction lists to verify that he/she is not on any of these lists. This counter-terrorism check is a requirement of donor government regulations and is therefore an important part of an employee's ability to fulfil his/her employment requirements. ZOA makes use of a computer software system called Member Check for this search. Member Check searches through databases that check individuals against, amongst others, sanction lists. Should the employee be found on a sanction list, the employee understands that this may disqualify him/her for being able to meet the requirements of the position and could potentially lead to the termination of his/her employment contract.
Important Notes /
مقترحات هامة
Following the instructions on

How to apply

will always increase your chances of getting your application looked at.


إتباع تعليمات التقديم المذكورة في كل إعلان ستزيد من فرصة النظر لسيرتك الذاتية من قبل الجهة المعلنة
If you're applying by email, make sure you mention the job title in the

"Subject"

field of your message


تذكر أن تكتب إسم الوظيفة و موقعها في عنوان البريد عندما يكون التقديم عبر الإيميل