Job Description
About Search
Search for Common Ground (Search) is a non-governmental organization working to transform the way societies deal with conflicts. We have over 37 years of experience in peacebuilding and are based in 53 local offices worldwide. We strive to build sustainable peace for generations to come by working with all sides of a conflict, providing the tools needed to work together, and finding constructive solutions. While conflict is inevitable, violence is not! Our mission is to transform the way the world deals with conflict, away from adversarial approaches and toward cooperative solutions. Instead of tearing down an existing world, we focus on constructing a new one. We shift the everyday interactions between hostile groups of people, so they can work together to build up their community, choosing joint problem-solving over violent means.
Purpose of the Role:
Search-Yemen is currently recruiting for the position of Project-M&E Assistant, to support the roll out and implementation of a peacebuilding project in Yemen. The Project Assistant will be responsible for supporting activities in the three targeted governorates of Yemen (Aden, Al Dhale, and Taiz) for a regional project titled "Advancing Tolerance in the Middle East and North Africa (MENA)." The project aims to support marginalized communities in preventing violence and overcome barriers to services and other risks they face. Search-Yemen's project interventions will focus on promoting social cohesion, strengthening the capacity of the local leaders and civil society organizations, as well as supporting initiatives in support of at-risk communities. This will be achieved through training and capacity building, community dialogues, small-scale community development initiatives, media campaigns, and other community-based activities. The Yemen component of this project is part of a regional peacebuilding initiative aimed at supporting at-risk communities.
Based in Aden, the Project-M&E Assistant will report to the Project Manager, based in Aden, and the DM&E Manager, based in Tunis, with oversight from the regional project management. S/He will provide essential support to the project, handle administrative functions, such as planning meetings, tracking budgets and overseeing the minute details associated with complex task tracking, working with the Project Manager and other team members to achieve project success.
The Project-M&E Assistant is expected to have excellent communication abilities (writing and verbal) and maintain excellent relations with partners. The working languages for this position are Arabic and English.
Reports to: Project Manager based in Aden, and DME Manager based in Tunis
Position(s) directly reporting to this position: N/A
Title: Project Assistant: "Advancing Tolerance in MENA- Yemen Program
Location: Based in Aden, Yemen
Term: 11 months, Start Date: October 2021
"WHAT" - Essential Duties and Responsibilities
The Project Assistant will perform the following responsibilities:
Provide direct support in the logistics, administrative and operational tasks related to the implementation of the project's activities
Provide support to the project manager in the day-to-day implementation of the project activities
Provide direct support in monitoring the project activities and capturing results
Provide support to the DM&E Manager in the day-to-day monitoring and evaluation of the project activities
Project Support:
Support implementation of project's activities by following up activity updates from the field
Assist in documenting events and workshops and organizes and files media documentation
Assist Project Manager in the project cycle including program developing and implementing work plans etc.
Extend other assistance to the project when required
Conduct logistic and administrative duties related to all aspects of project implementation, as instructed by supervisors;
Arrange necessary logistics for the activities of the project, such as workshops and trainings e.g. organize accommodation for participants, photocopy of materials, arrange transport, etc.;
Manage project calendars (scheduling meetings, lunches, etc.);
Conduct field missions as necessary in consultation with the supervisors and make travel arrangements for site visits;
Provide oversight and coordination of partners' initiatives implementation
Prepare tracking documents for meetings, and update tracking tools regularly;
Prepare activities' reports as well as quarterly narrative reports for donors, in compliance with Search for Common Ground and donor's requirements;
Translate documents from English to Arabic and vice versa
Administrative Duties:
Ensure project files are kept updated with the most current information; processes incoming documentation from partners.
Ensure project files are kept updated with the most current information; processes incoming documentation from partners;
Meticulously name and classify each file/document digitally, to ensure easy access
Attend meetings with partners and takes minutes;
Ensure documents requiring a signature are approved and processed in a timely manner;
Follow-up on any missing documents and makes sure that all required documents are fully completed by creating an excel sheet database (Checklist) – to ensure proper follow-up and to report any missing documents;
Receive and collect documents related to the project activities and maintains an accurate and complete filing system electronically and in hard copies.
Monitoring & Evaluation Duties:
Support the DM&E Manager to track the project's output and outcome level results on a periodic basis in close coordination with the project implementation team;
Collect success stories, best practice documentation, lesson learn and manage those information in project reports and other knowledge products;
Conduct monitoring site visits to capture information for accurate documentation and reporting
Collect, check, verify and compile data from the field (Yemen) on a periodic basis as stipulated in the M&E plan;
Enter and clean collected data ensuring data are up to date and of high quality;
Mobilize beneficiaries to conduct Key Informant Interview and/or Focus Group Discussion;
Support the coordination of all aspects of project monitoring and reporting;
Actively participate in reflection meetings to analyze monitoring findings and contextual updates and adapt programmatic approaches to maximize project results;
Perform any other M&E or programmatic tasks as requested by supervisors.
Organizational Responsibilities:
Ensure a safe working environment for all people involved in project implementation and maintains the highest standards of behavior when working with the community targeted.
Prepare logistics, including invitations, participants' cards, desk signs, participants' lists, attendance lists, invoices, per diem forms, taking photos, making copies needed for the training materials, certificates and completing request forms for stationery needed.
Perform any other related duties as may be assigned.
As job descriptions cannot be exhaustive, the position holder may be required to undertake other duties that are broadly in line with the above key responsibilities.
Qualifications and Skills Required:
Education:
A bachelor's degree or equivalent certificate/diploma or similar qualification from a recognized establishment or equivalent experiences.
Experience:
At least 2 years' professional experience in a comparable position including extensive fieldwork.
Organized and has good archiving and filing skills.
Ability to analyze and present information in a clear manner.
Ability to work independently and problem-solving skills.
Honest, hardworking, and committed to community development.
Good knowledge of Yemeni conflict context and previous field experience.
Familiar with quantitative and qualitative data collection.
Other Relevant Competencies:
Demonstrated computer skills (Word and Excel).
Excellent command of Arabic and English language skills required.
Good communication and interpersonal skills.
Self-starter with the ability to manage time effectively.
Discipline and punctuality.
Demonstrated ability to manage multiple priorities, deadlines, and tasks efficiently.
Maintains focus on priorities.
Willingness and ability to travel within the country.
Able to work under pressure and in remote areas.
Demonstrates excellence in both oral and written communications.
How to Apply
To apply, interested candidates should send the following items to our employment portal here::
• Updated resume
• Cover Letter
Only applicants invited for an interview will be contacted. No phone calls please. Please see our website www.sfcg.org for full details of our work.
All Search Employees must adhere to the values: Collaboration - Audacity - Tenacity - Empathy - Results. In accordance with these values, Search enforces compliance with the Code of Conduct and related policies on Anti Workplace Harassment, Protection from Exploitation and Abuse, Child Safeguarding, Conflict of Interest and Anti-fraud.
Search for Common Ground does not and shall not discriminate on the basis of race, color, religion (creed), gender, gender expression, age, national origin (ancestry), disability, marital status, sexual orientation, or military status, in any of its activities or operations. For more information on Search, including its core values and competencies, please visit Search website at www.sfcg.org
Important Notes /
مقترحات هامة
Following the instructions on

How to apply

will always increase your chances of getting your application looked at.


إتباع تعليمات التقديم المذكورة في كل إعلان ستزيد من فرصة النظر لسيرتك الذاتية من قبل الجهة المعلنة
If you're applying by email, make sure you mention the job title in the

"Subject"

field of your message


تذكر أن تكتب إسم الوظيفة و موقعها في عنوان البريد عندما يكون التقديم عبر الإيميل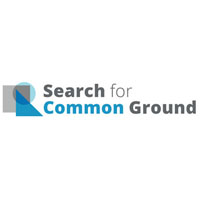 Other jobs from SFCG
Send this job to a friend