Liaison Team Leader
This job has ended. You cannot apply anymore.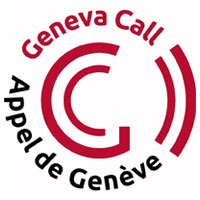 Development
Posted on 03 May, 2023
Closing on 31 May, 2023
Update
Deadline has been extended
Job Description
Liaison Team Leader - Aden, Yemen (National)
Mission
Geneva Call is a neutral and impartial non-governmental organization dedicated to promoting respect for international humanitarian norms in armed conflict and other situations of violence. Geneva Call's mission is to ensure that armed groups and de facto authorities (AGDA) respect International Humanitarian Law and basic humanitarian principles in the areas where they fight or they control.
Geneva Call has been engaged in Yemen since 2008 remotely and since 2017 with presence in the field to promote humanitarian norms among armed actors and communities.
Geneva Call consists of many diverse nationalities, cultures, languages and opinions. Geneva Call is an inclusive working environment for all its staff. Applications are particularly encouraged from all qualified candidates without distinction on the grounds of race, colour, sex, national origin, age, religion, disability, sexual orientation, and gender identity.
Role
Under the supervision of Head of Support, the Liaison Team Leader will manage the liaising matters of visas, Principal Agreements, Sub Agreements, entry exit visas, expats residencies, travel permits, MoUs for activities. Assist program staff to plan and obtain approvals for training, workshops and events according to procedures set by authorities. Maintain good relationship to line ministries including finance, taxation, labor, social.
Core responsibilities
Liaison Management & Coordination
Under the supervision of Geneva Call Support coordinator, holder of this post is responsible for:
Support Geneva Call to liaise with governmental authorities in the area of responsibility;
Support the liaising between government departments or offices with Geneva Call representatives;
Liaise and provide assistance to achieve the approval and signature by the relevant authorities of principal agreement(s), sub-agreements, work and travel permits;
Support the processing the visas of international staff members and visitors, residences requests, permits, security clearance, exit visas;
Ensure awareness of all relevant information in relation to regulations, procedures and policies on INGOs. As well as ensuring inform and update management as required;
Ensure that all relevant documents are translated, and appropriately internally and externally filed as part of the submission process with the authorities;
Assist staff to plan and obtain approvals for training, workshops and events according to procedures set by authorities;
Provide administrative support and maintain the record in proper filling system both in hard and soft form as well as in both English and Arabic;
Put in place, maintain and update a tracking system on visas, exit entry visas, agreements, sub-agreements, travel and resident permits, work permit etc;
If and when requested by Support Coordinator, and or Country Director, liaise and maintain good relationship with authorities, agencies, airport and immigration authorities and any other stakeholders to facilitate the Geneva Call work and operations;
Carry out any other tasks relevant tasks associated with the post as assigned by Support Coordinator, and or Country Director;
Maintain good working relationship with related authorities ministries in coordination of Country Director and Support Coordinator represent Geneva call at mentioned authorities and ministries.
II. Human Resource Management
Line-manage relevant Liaison Officer, or all related staff according to country's operational set up;
Assist in the recruitment and selection processes (including coaching and evaluation) of staff and consultants.
III. Security
The staff herself or herself follow, the related Framework (Manuals, Plans, SoPs, guidances) related to security and safety;
Ensure that support staff, follow and implement safety and security policies and procedures.
IV. Other Duties
Attend and represent GC as required at conferences and other fora of interest to the organisation;
Perform any other tasks as assigned by the line managers.
Main qualifications
Education and experience
Completed degree of Higher Education in relevant field such as Political or Social Science, International Humanitarian Law or Human Rights;
Knowledge of International Humanitarian Law (IHL) or International Human Right Law is an asset;
Minimum 3 years equivalent work experience in a humanitarian/protection organization, working in a Liaison management role in conflict-affected areas;
Demonstrated skills and experience in security management.
Technical skills
Strong organizational and analytical skills;
Solid diplomatic skills with ability to communicate with high level interlocutors;
Established networks in Yemen;
Passionate about political and security affairs in the country and also in the region;
Experience in developing professional relationships with various stakeholder including authorities, armed actors and working in a neutral and objective manner;
IT Tools (MS Office, Excel, email).
Languages
Required excellent skills (written and oral) both in English and Arabic.
Personal skills
Outstanding interpersonal skills with experience of negotiations with authorities, ministries, weapon-bearers and other high-level stakeholders.
Demonstrable experience of dialogue with authorities, actors would be an asset;
Ability to work under pressure, travel frequently in conflict-affected areas and to handle numerous tasks simultaneously;
Excellent interpersonal skills with ability to network in a multicultural environment and to develop strong professional relationships with stakeholders and with experience in dialogue with armed groups.
Performance management
The employee will be accountable for the responsibilities and the competencies, in accordance with the GC Performance Management p. The following documents will be used for performance reviews:
The Job Description
The individual Work- and Professional Development Plan
The Competency Framework
Conflict of interest
Any candidate affiliated to, or openly supporting, one or more interest groups opposed to the Foundation's principles and values, or whose previous position could engender safety issues for co-workers at Appel de Genève / Geneva Call, will be excluded from this selection process.
Conditions
Position : Liaison Team Leader
Type of Contract: Fixed term contract (National position)
Activity rate: 100%
Work place: Aden, Yemen
Preferred start date: June 1st, 2023
How to Apply
How to apply has been removed becuase this job has ended. If this is a special case, please contact us and we will help.
Important Notes /
مقترحات هامة
Following the instructions on

How to apply

will always increase your chances of getting your application looked at.


إتباع تعليمات التقديم المذكورة في كل إعلان ستزيد من فرصة النظر لسيرتك الذاتية من قبل الجهة المعلنة
If you're applying by email, make sure you mention the job title in the

"Subject"

field of your message


تذكر أن تكتب إسم الوظيفة و موقعها في عنوان البريد عندما يكون التقديم عبر الإيميل