Logistics Manager
This job has ended. You cannot apply anymore.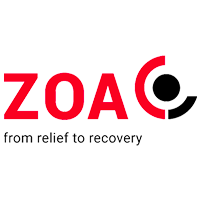 Job Description
ZOA, as an international NGO, supports people who have lost everything due to armed conflict or natural disaster. Together, we can come to their aid in emergencies and remain faithful to communities as they recover – providing new opportunities for them to help themselves again. The work of ZOA is coordinated from the Netherlands. We are active in multiple countries in Africa, South America, the Middle East Region, and Asia. We work with approximately 900 employees worldwide and with (local) partners. We invite you to join our team of committed colleagues. ZOA has been operational in Yemen since 2012, mainly focusing on WASH and Food security & Livelihoods interventions in Sana'a, Hajjah, Al Mahwit, Aden, Al-Dale'a and Shabwa Governorates. ZOA Yemen is currently seeking for national qualified candidates for:
Logistics Manager, Sana'a – 1 position
The Logistics Manager is responsible for planning, organizing and supervising the implementation and reporting of all logistics activities in the country. Based on program needs, considering procurement and logistics policies and procedures, the Logistics Manager ensures high quality logistical, procurement and facility support to all program and support activities within the projected timeframe and budget.
The Logistics Manager supports the DoO/MoO to ensure good and transparent coordination between the Logistics functions in the country and field offices to ensure effective and efficient support to all ZOA Yemen program activities.
Additionally, the Logistics Manager is expected to work closely with the Finance Manager to play an important role in ensuring a smooth cooperation between the Finance and Logistics departments. Initiating and/or maintaining processes or procedures that support efficient handling of procurement and payment.
In cooperation with the Line Managers, the Logistics Manager sets the objectives for the logistic and/or support officers and assistants in the different offices within the projected time frame and budget.
II. Tasks, responsibilities, results
The Logistics Manager has been assigned with responsibility and holds delegated authority for:
Procurement:
Ensure contact and liaison with suppliers, agents and governmental bodies is maintained to build good relationships and create a network of stakeholders to rely on when support is needed.
Ensure that procurement steps are correctly followed and documents are correctly collected, analysed and archived by the responsible procurement officers according to both the Global Procurement Guideline and Yemen Procurement Annex.
Ensure correct oversight by the CO over higher value procurement done by the field offices.
Ensure the Yemen Country Annex to the Procurement Guideline is up to date and initiate adjustments to the DoO/MoO if or when required.
Actively work to prevent and detect fraud across the Yemen Logistics departments and processes and – where possible – other departments.
Support the Programs teams in correct and efficient procurement planning and ensure regular monitoring of procurement plans. Actively liaise with Programs teams in case adjustments of the procurement plans are required.
Supervise the CO procurement team and provide technical supervision to field procurement staff.
Logistics / Fleet Management / Stock Management / Facility Management:
Ensure smooth running of the logistic processes of ZOA Yemen country and field offices.
Ensure up to date standards in logistic policies in accordance with donor and ZOA guidelines. Initiate the adjustment or introduction of guidelines and/or policies as required.
Ensure proper fleet management and vehicle and staff movement.
Ensure proper asset, stock and disposal management across ZOA Yemen and ensure periodic counts are performed.
Actively pursue more effective and efficient logistics processes, across all ZOA Yemen.
IT & Communication
Ensure effective and efficient IT support for all ZOA Yemen locations taking into consideration the risks of cyber breaches.
Ensure efficient and cost effective internet connectivity for all ZOA Yemen locations
Ensure backup communication and internet connectivity for all ZOA Yemen locations, where necessary in coordination with Security Officers.
Actively raise any IT and communication concerns with the DoO/MoO and the YMT
Liaison:
Where necessary, especially in regard to procurement, maintain high level contacts and communication with government officials to ensure smooth and unbiased procurement processes in close cooperation with the Liaison Officer.
Support the Liaison staff with Logistics document provision for Sub- or Principal agreements taking into consideration "red lines" on documents to be provided
Finance
While the Logistics Manager explicitly does not hold Finance responsibility, s/he is responsible to cultivate good cooperation and collaboration with the Finance department(s) to ensure clear and efficient processing of procurement and logistical requirements and actively resolve possible bottlenecks with the support of the DoO/MoO.
Quality Management
In cooperation with relevant managers, review, develop and implement (as applicable) systems to improve transparency. Ensure adequate anti-fraud procedures are in place to detect and ultimately prevent loss or fraud. Carry-out regular inspections and spot-checks to ensure the best use of ZOA assets and resources.
Manage the Logistics support functions, including reviewing and refining the management structures and overseeing the development and maintenance of operational procedures for the Logistics support functions as needed.
Leadership and management
Management, supervision and coaching of logistic and support department, including the (externally hired) guards and drivers.
Manage staff with integrity and foresight, and in accordance with HR procedures and policies to ensure that they maintain the highest standards of accountability and professionalism.
Support the development of logistics and support staff by organizing regular training sessions, on-the-job-training and coaching regarding logistics and procurement procedures as well as in other relevant subjects to ensure they are not only sufficiently trained to perform their duties, but also to ensure further capacity building.
Ensure ongoing mentoring and coaching for all logistics and support staff.
The Logistics Manager provides the YMT with solicited and unsolicited advice on Logistics and other related matters.
When present in the YMT, The Logistics Manager participates in YMT decision making and is able to make, carry out and communicate difficult decisions that support the country organisation. He/ she is expected to balance the interests of their department, the country organisation as a whole and of all stakeholders involved
MoO Cover
Cover the logistics related tasks of the Manager of Operations during his/her absence. The details and budget responsibilities will be covered in a delegation memo as/when required.
General:
Provide timely feedback to the respective members of the Country Management Team on the status and bottlenecks in the procurement process and logistics.
Carry out any other tasks assigned by the Country Director (CD), Manager of Operations (MoO)/ Director of Operations (DoO).
The Logistics Manager is expected to be part of the Yemen Management Team, subject to MoO/DoO agreement.
III. Contacts
External Contacts
Suppliers
Logistics cluster
SCMCHA
External Service Providers
Customs and other government departments
Internal contacts
Focal point for all staff related to logistics issues
Advises YMT on logistics related issues and challenges
IV. Supervises
Line manages country office logistics and IT staff
Provides technical management to field based logistics / support staff
IV. Competencies
Knowledge
Bachelor degree in a Logistics related study
At least 4 years' experience in a Senior Logistics position within an INGO
Ideally, at least 2 years' experience with ZOA's Logistics practices
Computer skills and relevant office software packages (MS Office programs, email, accounting)
High level command of English and Arabic, both written and verbal, is essential
Experience in general management
Cross-cultural experience in a relief or development setting.
Skills/Attitude
Result-oriented approach, initiates but also makes sure that initiatives come to a satisfactory result
Takes initiative to improve processes and procedures
Excellent interpersonal skills, ability to work both independently and as a member of a team.
Planning and organizational skills related to work and time management
Able to oversee multiple tasks, prioritising and delegating as required.
Flexible conduct and customer-friendly attitude
Attention to detail and high level of accuracy
Planning, coordination, assessment, analytical and problem-solving skills
Strong organisational abilities, excellent written and verbal communication skills.
Willingness to learn and be trained and be challenged to grow
Excellent coaching skills and ability to train and encourage others
Strong leadership skills. Able to communicate potentially difficult decisions and create buy-in.
V. Special requirements
Up to 25% may be required for travel in country.
Location: Sana'a
Start date: as soon as possible, contract until 31st of December 2023 with possibility for extension based on budget availability
How to Apply
How to apply has been removed becuase this job has ended. If this is a special case, please contact us and we will help.
Important Notes /
مقترحات هامة
Following the instructions on

How to apply

will always increase your chances of getting your application looked at.


إتباع تعليمات التقديم المذكورة في كل إعلان ستزيد من فرصة النظر لسيرتك الذاتية من قبل الجهة المعلنة
If you're applying by email, make sure you mention the job title in the

"Subject"

field of your message


تذكر أن تكتب إسم الوظيفة و موقعها في عنوان البريد عندما يكون التقديم عبر الإيميل